Apartamentos Universitarios ULPGC - Campus de Tafira
The building was inaugurated in 2003 and is made up of 77 double apartments with single rooms, surrounded by gardens. The apartments are distributed in 25 modules with 3 levels each, housing a total of 150 accommodation places. On the other hand, there are 2 additional apartments whose access and interior design is accessible for disabled people.
---
What does this property have?
---
Room types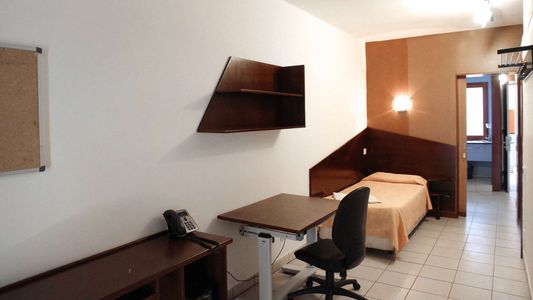 Private kitchen, private bathroom
From 440 €/month
---
Reviews
No reviews (yet)
Be the first to leave a review.
---
Where is it?
Apartamentos Universitarios ULPGC, Campus de Tafira S/N, 35017 Tafira Baja, Las Palmas, Spain
Do you want to know more?
Contact a member of our team or schedule a consultancy session
🔥 11 people have contacted today
---
Frequent questions
No hay preguntas frecuentes aún
Do you want to know more?
Contact a member of our team or schedule a consultancy session
🔥 11 people have contacted today