Residencia Femenina Trinitarias
Perfect cozy and family atmosphere, good climate for study and coexistence, where you can feel at home. In the center of Zaragoza, very well connected to the different university campuses.
---
What does this property have?
---
Room types
Habitación individual con baño propio
No kitchen, private bathroom
From 455 €/month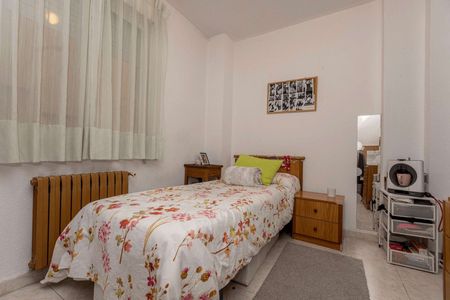 Habitación individual con baño compartido
No kitchen, shared bathroom
From 430 €/month
---
Reviews
9.333333333333334 over 10 (9 reseñas)
Un placer llevar a mi hermana de 18 años q fue a Zaragoza a estudiar desde argentina. Súper fiable, se está muy a gusto. Como estar en casa,…
view more
Experiencia muy positiva, buen trato, buena comida, muy familiar, se preocupan por las residentes, procurando que se sientan a gusto. La rel…
view more
Mis hijas se sintieron cómo en familia. Parte de su estancia en Zaragoza fue inolvidable al vivir aquí y por la gente que conocieron. ¡Mucha…
view more
Es mi tercer año en Residencia Femenina Trinitas y estoy muy contenta. Tengo unas compañeras geniales y el personal (tanto recepción, como m…
view more
Ya es mi segundo año en esta residencia y es como mi casa. He conocido a personas increíbles y estoy muy contenta con todos los servicios. U…
view more
Mi prima estuvo un tiempo en la residencia y me habló maravillas. Buenas instalaciones, relación calidad precio excelente y buena comida. 11…
view more
Residencia muy acogedora, muy bien situada en la zona centro de la ciudad.La comida es casera y el ambiente muy bueno para poder descansar …
view more
Residencia femenina. Mi hija estuvo como en casa y nosotros estuvimos encantados con todo el personal. Muy recomendable.
Sólo tengo buenas palabra para la residencia donde mi hija estuvo 3 años. Ubicación, instalaciones, calidad de la comida, limpieza, atención…
view more
---
Where is it?
Calle del Porvenir, 5, 50006 Zaragoza, Spain
Do you want to know more?
Contact a member of our team or schedule a consultancy session
🔥 11 people have contacted today
---
Frequent questions
No hay preguntas frecuentes aún
Reservation conditions
No hay preguntas frecuentes aún
Do you want to know more?
Contact a member of our team or schedule a consultancy session
🔥 11 people have contacted today