Residencia Universitaria Livensa Living Salamanca
Livensa Living is the best option if you have chosen to study in a city with as much university atmosphere as Salamanca.
In addition, the residence has an ideal location a few meters from the Plaza Mayor, the Cathedral of Salamanca and the University of Salamanca; Faculties such as Education or Science are less than 10 minutes away on foot.
It could be better?
---
What does this property have?
---
Room types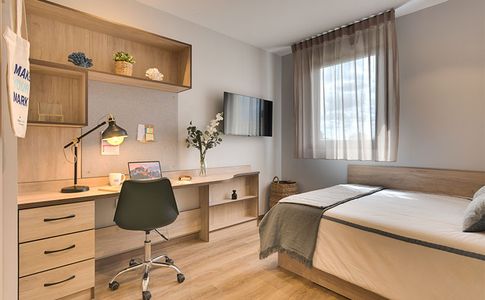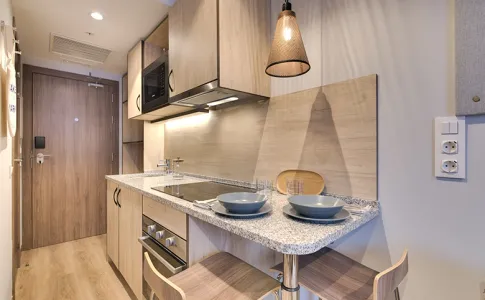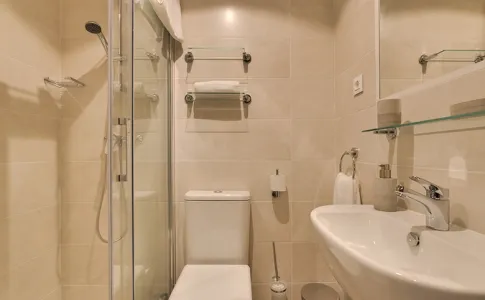 Private kitchen, private bathroom
From 464 €/month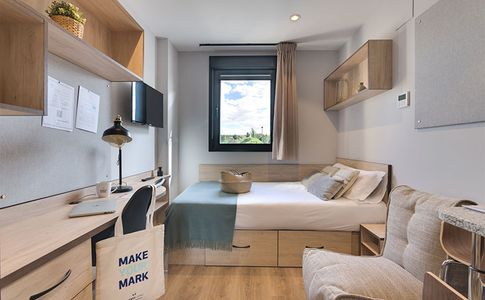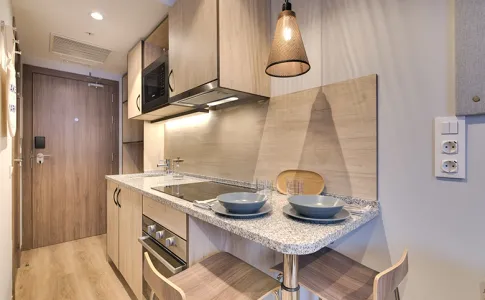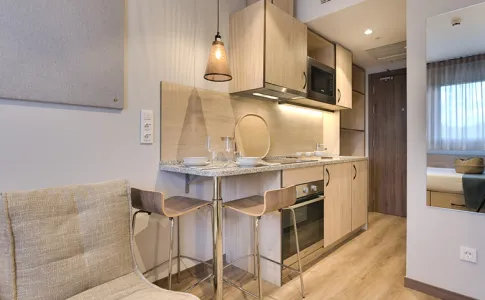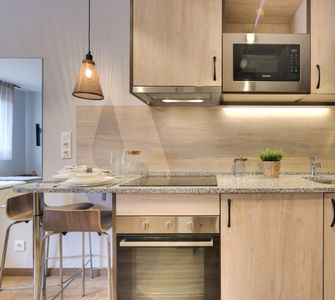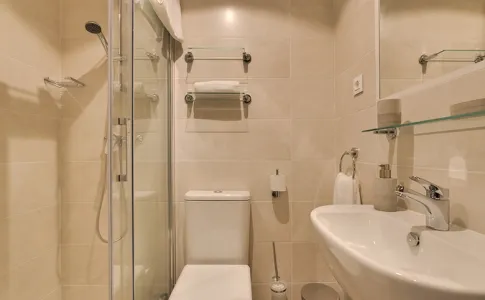 Private kitchen, private bathroom
From 518 €/month
What does the price include?
Change of bed linen and towels
---
Reviews
Ambiente muy agradable. Bien ubicada, comida bien resuelta gracias a su catering.¡Recomendadísima!
Me ha encantado. Las instalaciones son muy completas, todo es muy nuevo, ofrece un montón de servicios y el personal es muy amable
Espectacular. Las habitaciones con una buena cama, armario, espejo, sillón, cocina muy completa y un baño precioso. Todo a estrenar. Las zon…
view more
Una residencia estupenda, nueva, con todos los detalles que marcan la diferencia , un gran hogar para estudiantes, muy cerca del centro hist…
view more
La mejor residencia de toda Salamanca sin lugar a dudas. No sólo se puede gozar de unas magníficas instalaciones con todo tipo de servicios …
view more
Instalaciones excelentes. Trato excelente. Incomparable con el resto de residencias de la ciudad. Todo nuevo y en perfectas condiciones. Pre…
view more
La residencia es una pasada, unas instalaciones nuevas, todo muy cuidado, el equipo y la dirección nos tratan muy bien, son un amor y estar …
view more
Fuimos a visitar la residencia de Salamanca, y la verdad, hemos salidos encantados. En primer lugar por el recibimiento y la atención que se…
view more
Residencia muy acogedora, con instalaciones nuevas y espectaculares. Si quieres conocerles no dudes en pedir una visita.
Trato exquisito por parte del director Pedro y el resto del personal. Muy profesional y cercano. Te dan la tranquilidad que necesitas. Buena…
view more
---
Where is it?
C. Cordel de Merinas, 43, 37008 Salamanca, Spain
🔥 Few rooms left!
---
You will not be charged yet
Do you want to know more?
Contact a member of our team or schedule a consultancy session
Write to us by WhatsApp
We are online
+34 611 65 71 15
🔥 49 people have contacted today
🔥 Few rooms left!
---
You will not be charged yet
---
Do you want to know more?
Contact a member of our team or schedule a consultancy session
Write to us by WhatsApp
We are online
+34 611 65 71 15
🔥 49 people have contacted today